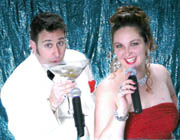 It's The Atomic Lounge Show — a kooky, retro-style lounge act, featuring the fabulous vocal stylings of Johnny Atomic and his lovely wife, Gin Atomic, performing all your favorite classic casino hits, standards, showtunes, crooners, torch songs, and party favorites.

Johnny and Ginger have created a show that captures the dazzling energy of vintage Vegas by drawing inspiration from such Las Vegas legends as Frank Sinatra, Dean Martin, Rosemary Clooney, Louis Prima & Keely Smith, Peggy Lee, Steve & Eydie, Tom Jones, Sonny & Cher, and Wayne Newton. Combining the glitz of a Vegas stage show with the intimacy of a classic casino cocktail lounge, it's pure entertainment that appeals to young and old alike!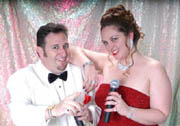 The Atomic Lounge Show is ideal for corporate events, birthdays and anniversaries, weddings, cocktail or dinner parties, Monte Carlo nights, fundraisers, theme events, or simply because everybody needs a little Vegas in their lives!